Dar Al-Kalima University in Bethlehem celebrated the launch of the university's student and alumni project offerings and the graduation ceremony of the Ramy Zahi Khoury Innovation and Entrepreneurship Incubator Program.

Photos of Dar Al-Kalima University

And that in the rehabilitation of Dar Al-Kalima University.
The performances included many artistic and cultural segments, including: musical performances, Palestinian tour guide program project presentations, design program presentations, graphic design, interior design, drawing, photography, contemporary plastic arts, in addition to supervised film screenings and theater performances for students. Tariq Zaboon, a member of the academic staff at Dar Al-Kalima University, presented a performance art by student Rayan Abu Zakhem and student Zainab Danadnah.
The projects of students and graduates of Dar Al-Kalima University were distinguished by the diversity of ideas, creativity, development and mastery, as there were many projects that could be implemented on the ground, and different materials were used in the production of projects. , and most of the projects were characterized as environmentally friendly.
The ceremony was inaugurated with the speech of Reverend Professor Mitri Raheb, Founder and President of Dar Al-Kalima University. It was delivered on his behalf by Dr. Ihab Bseisu, Vice President of Dar Al-Kalima University of Communication and International Relations, during which he said: I can not help but express my sincere thanks to the dear friend and Chairman of the Board of Trustees of Dar Al- Kalima University, Zahi Khoury, for his support in the establishment of this incubator and its close guidance Dr. Enas Theeb for her sustained and tireless effort to support this cohort and colleague Dr. To train Farseen Shaheen for her wise management, and lastly I congratulate this first cohort on this achievement.
Dr. Enas Deeb, Director of the Innovation and Entrepreneurship Unit at Dar Al-Kalima University, confirmed during her speech: "Everyone who participated in the Dar Al-Kalima Entrepreneurship Incubator and also in the Culture Project has a lot of knowledge and skills gained in planning, developing the business model, marketing the project, drawing up a budget And in presenting the project, and remember that creativity is born from the heart of emptiness, need, determination, perseverance and support … Dar Al-Kalima University with all its staff was and remains the supportive family for you.
Entrepreneur Dr. Samir Huleleh delivered his speech, during which he said: "The idea of ​​turning into a project requires a long distance and to build a viable project that has the foundations of a long issue, during which there are dozens of journeys of failure you need your will and passion to educate you This is new, and we are able to make the required change, and we are able to play a central role in the Ramy Zahi Khoury incubator in creating a new and renewed Palestinian culture and new Palestinian art. "
Dr. Ihab Bseisu, Vice President of Dar Al-Kalima University of Communication and International Relations, delivered a speech in which he said: "We must reconsider the nature of the role of culture and art in society, not as art that strives then to entertain or entertain as much as they are an integral part of a great economic and pioneering process that enables us to achieve many achievements in this context, and there are many experiences around the world that transform creativity becomes an instrument of the economy, and here Rami Zahi Khoury Incubator is distinguished from other cultural incubators in Palestine, as we speak on the one hand of the harmonization between arts and culture, and between the prospects of work and excellence on the other side, and because Dar Al-Kalima University is the academic incubator for several disciplines, it clearly contributes to making the Ramy Zahi Khoury Incubator one of the practical to create projects through which all these competencies can be launched into the world of creativity and cultural works. "
Ali Ramadan, director of the Business Center at Palestine Polytechnic University, emphasized the strategic partnership with Dar Al-Kalima University, explaining the arbitration procedures and how to select the projects to be funded. Entrepreneurs built their projects without funding, so that the incubator is the one that gives you the basic area to launch. "
During the ceremony, performances of the "Our Voice Is Heard?" Program were presented, and the Jabra play was presented by artist Khaled Al-Masou. The students of the Performing Arts program presented music for musical segments. The first group of Ramy Zahi Khoury's incubator for leadership and creativity was honored, and certificates of appreciation were handed out to the participants in the program "Culture is the identity of steadfastness" in partnership with the Polytechnic University, the Geist Foundation for Entrepreneurship and Development and the Taawon Foundation. A constellation of entrepreneurs and winners of the two programs, whose projects will be funded, has been announced, including: Roaa Al-Sheesh, Mounir developed in partnership with Awad Hamad, Raghad Al-Qawasmeh.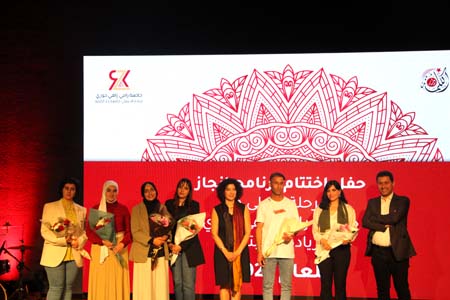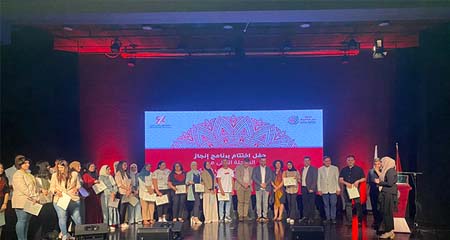 Use of the content in terms of Section 27A of the Literary Rights Act 2007, please send notes [email protected]